Boost Your Online Presence with Social Media Marketing Services
Enhance your brand's visibility and engage your target audience with our professional social media marketing services. At Creative Web Designs, we offer expert strategies and creative campaigns to elevate your online presence and drive meaningful results.
Harness the Power of Social Media to Grow Your Online Presence
attract, engage, and convert your target audience into loyal customers.
In today's digital era, social media has become a powerful tool for businesses to connect with their audience, build brand awareness, and drive customer engagement. However, managing multiple social media platforms and staying on top of the latest trends can be overwhelming. That's where we come in. Our team stays up to date with the latest industry insights and best practices, ensuring that your social media marketing strategy is always on point.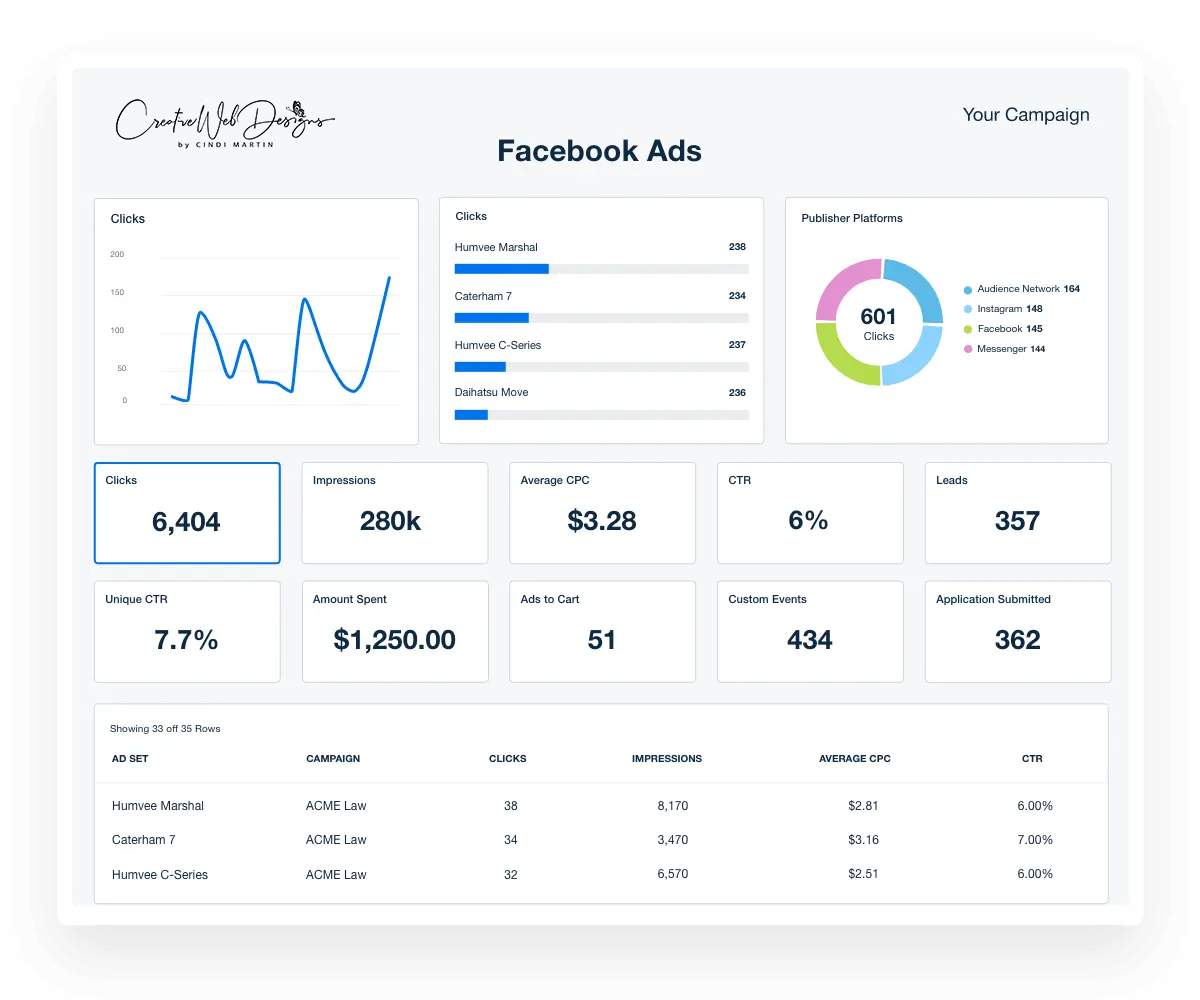 Our Social Media Marketing Services
Ready to elevate your brand's presence on social media?
Social Media Strategy Development
We'll craft a comprehensive social media strategy tailored to your business objectives, including content planning, audience targeting, and platform selection.
Content Creation and Management
Our team of creative content creators will develop compelling posts, graphics, and videos that resonate with your audience, boost engagement, and drive traffic to your website.
Community Engagement
We'll actively monitor your social media channels, respond to comments and messages, and foster meaningful connections with your audience, strengthening your brand's online presence.
Social Media Advertising
Harness the power of targeted advertising campaigns to reach your ideal customers on platforms like Facebook, Instagram, LinkedIn, and Twitter. We'll optimize your ad spend to maximize ROI and drive conversions.
Analytics and Reporting
Gain valuable insights into your social media performance with detailed analytics and reports. We'll track key metrics, measure campaign effectiveness, and provide actionable recommendations for continuous improvement.
Sample Social Media Package Costs
Introducing our Social Media packages, meticulously crafted to alleviate the burden of remembering to regularly update your various social media accounts. We take charge of the posting process, allowing you to focus on other essential tasks. Our services include both handling the entirety of your posting needs and complementing your existing efforts, amplifying the impact of your social media endeavors. By consistently delivering timely and engaging content, we cater to your followers across multiple platforms, including:
The time required for each service may vary, as there is no universal solution for Social Media Marketing. The pricing depends largely on your specific goals as a client. However, to provide you with a rough understanding of the available services and their approximate costs, here are a few scenarios. Please note that these prices are not fixed quotes but rather general estimates of what a client might expect to pay for a particular set of Social Media Marketing services.
Frequency: Monthly
Minimum Time Commitment: None (this is a month-to-month service)
Expect to Spend: $500 per month and up, depending on your package choice and posting frequency. (price does not include your ad spend with Google or Facebook)
Lee Little
Premier Workforce
Cindi @ Creative Web Designs is OUTSTANDING. Her ability to be flexible, responsive, and timely is more than a business owner could ask for. She listens to your goals and desires to partner with you to make sure she is value-added member of your team. Great Work!!!
Very professional service! Great communication and ability to create what client is looking for. Fast service. This company went above and beyond what we asked or even hoped for. Incredible art and design work that looks better than we had hoped!
Cindi is absolutely phenomenal! Her work is extremely professional and she is very responsive to whatever we have needed and requested. I highly recommend her for any business venture that you may want to embark in. She's a great partner!
We're excited to help businesses achieve their goals! When you pick Creative Web Designs as your digital marketing agency, you won't receive a one-size-fits-all plan. Instead, we'll provide a personalized strategy that suits your unique company, needs, and objectives. Let's make your dreams a reality together!