Drive targeted traffic to your website with PPC Services
Our expert team creates custom campaigns that drive results and maximize your return on investment.
At Creative Web Designs, we understand the importance of driving targeted traffic to your website and maximizing your online visibility. Our PPC Advertising Service is designed to help you achieve these goals by harnessing the power of pay-per-click campaigns. With our expertise in website design and marketing, we can create highly effective PPC campaigns that generate results.
What is Pay Per Click Advertising?
Drive More Traffic and Increase Your Website's Ranking with Strategic SEO Techniques
Pay Per Click Advertising is a digital marketing strategy that allows businesses to place their ads on search engines, social media platforms, and other relevant websites. The name "pay per click" comes from the fact that advertisers only pay when a user clicks on their ad. This model ensures that you only pay for the actual traffic your ads generate, making it a cost-effective and measurable marketing solution.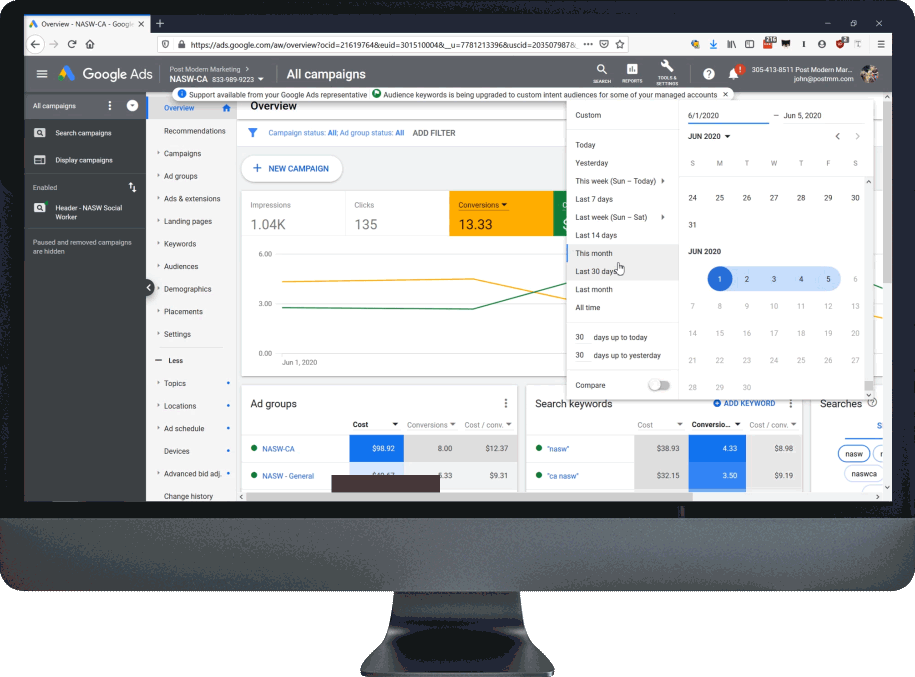 Ready to Boost Your Online Visibility?
Why Choose Our Pay Per Click Advertising Service?
Targeted Approach
Our team of experienced digital marketers will research and identify the most relevant keywords and demographics for your business. By targeting specific keywords and demographics, we ensure that your ads reach the right audience, increasing the chances of conversion.
Customized Campaigns
We understand that each business is unique, and a one-size-fits-all approach doesn't work. That's why we tailor our PPC campaigns to align with your specific business goals and objectives. Whether you want to increase website traffic, generate leads, or boost sales, we'll design a campaign that delivers the desired results.
Expert Ad Copy and Design
A compelling ad copy and eye-catching design are crucial for grabbing users' attention and encouraging them to click. Our team of talented copywriters and graphic designers will craft persuasive ad copy and create visually appealing ads that drive engagement and conversions.
Constant Monitoring and Optimization
We don't just set up your PPC campaigns and forget about them. We continuously monitor their performance, making adjustments to maximize their effectiveness. From bid management to keyword optimization, we employ industry best practices to ensure your campaigns stay ahead of the competition.
Detailed Reporting and Analysis
We believe in transparency and accountability. That's why we provide regular reports that outline the performance of your PPC campaigns. Our detailed analytics and insights will help you understand the impact of your advertising efforts and make informed decisions for future campaigns.
Cost-Effective Results
With our expertise in PPC advertising, we strive to deliver the best possible results within your budget. By optimizing your campaigns and maximizing your return on investment (ROI), we ensure that you get the most value out of your advertising spend.
Don't miss out on valuable traffic and potential customers.
Choose Creative Web Designs for a comprehensive range of website design and marketing solutions that combine creativity, expertise, and results. Contact us today to discuss your project and let us help you take your online presence to new heights.
Drive targeted traffic to your website with Creative Web Designs' Pay Per Click Advertising services. Our experienced team creates customized PPC campaigns that deliver results. Maximize your online visibility and boost conversions. Contact us today!
The time required for each service can vary, as there is no universal approach to PPC. The pricing will largely depend on the specific goals of each client. However, to provide you with an understanding of the available services and approximate pricing, here are a few scenarios. Please note that these prices are not fixed quotes, but rather general estimates of what a client might expect to pay for a specific set of PPC services.
Each PPC Package comes with the following features:
Expect to Pay: $800 per month and up for PPC management, depending on your package choice (price does not include your ad spend with Google or Facebook).
There is an onboarding fee of $1199 and up, depending on the networks you want to advertise on.
Our Pay Per Click (PPC) Services offer a dedicated PPC specialist who will handle the creation, management, and monitoring of your paid digital media account. We employ keyword research to analyze which search terms will be most beneficial for your business. Our four-step process includes:
These steps ensure that you establish a strong digital presence on Google and its search partners. Our aim is to help your company grow alongside your online audience.
Frequency: Monthly
Minimum Time Commitment: 6 Months
Minimum Required Ad Budget: $500
We're excited to help businesses achieve their goals! When you pick Creative Web Designs as your digital marketing agency, you won't receive a one-size-fits-all plan. Instead, we'll provide a personalized strategy that suits your unique company, needs, and objectives. Let's make your dreams a reality together!